New Continental Narconon for Europe Brings Drug Addiction Solution to Denmark—and Beyond
Kicking off a series of Continental Narconon center openings this month is a spectacular 67,000-square-foot estate in the Danish countryside, an idyllic, distraction-free setting for those seeking release from drug addiction's devastating grip. The opening was made possible by generous contributions from members of the International Association of Scientologists.
A landmark moment in the Narconon drug rehabilitation movement unfolded Saturday, September 5, as more than 1,000 supporters and their distinguished guests gathered on Lake Arresø to dedicate the new Continental Narconon center for Europe, on 16 stunningly beautiful acres of Danish nature, amid a pastoral forest of almost indescribably magnificent grandeur.
The European center is a 67,000-square-foot estate that's ideally configured to provide an environment free of distractions to people releasing themselves from the ravages of drug and alcohol addiction. It includes a training facility to educate rehabilitation specialists who will helm future Narconon centers that promise to actively tackle the narcotics epidemic that infects all 50 nations of the European continent.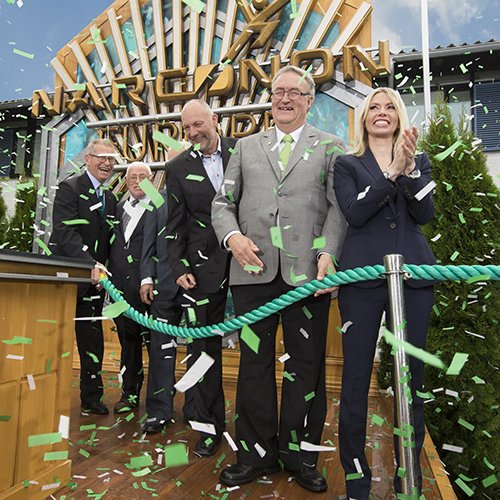 The center opens during a period of unparalleled growth for the expansive network of Narconon drug rehabilitation centers around the world that will effectively deliver the pioneering program based on the discoveries and writings of Scientology Founder L. Ron Hubbard.
It is the first of four new facilities opening over the coming weeks. The European center opening was followed hours later by a Continental Narconon rehabilitation center ribbon-cutting on a country estate in East Sussex, United Kingdom. The Continental Narconon Latin America in Mexico, established to serve the 21 nations of Latin America, opens next, soon to be followed by a Narconon facility atop the mountains of Ojai in Southern California, specifically dedicated to provide drug rehabilitation services to artists and leaders in society.
Officiating at the opening, the Executive Director of the Association for Better Living and Education International (ABLE) addressed the gathering, "ABLE is dedicated to improving society. That is why the opening of this new Narconon center is so important to us. Because this is not simply another drug rehab facility. This is the launch of a movement to bring an end to the scourge of drugs across Europe—and thereby the world."
Narconon Europe Executive Director Mr. Jorgen Jorgensen acknowledged those present who helped to make this proud milestone a reality. "Narconon centers in Europe have, through the past many years, helped more than 18,000 people to live healthy, productive lives," he said. "With this new facility, I envision hundreds of new Narconon centers all over Europe that can effectively help addicts to kick their habit. This new Continental Narconon center is our contribution to overcoming the drug problems that face us all."
Indeed, these problems are enormous. According to the European Monitoring Centre for Drugs and Drug Addiction, an estimated 1.4 million residents of the continent are problem opioid users, particularly heroin. The EMCDDA also reports an unprecedented increase over the past five years in the number, type and availability of new psychoactive substances in Europe and a concurrent surge in reports of subsequent illness and death.
During the September 5 opening event on Lake Arresø, the largest lake in Denmark, Drug Abuse Consultant Mr. Leif Carlsen shared why he considers the Narconon program to be essential to society.
"Narconon not only helps people to become drug-free, it also educates people to live their lives drug-free in the future," he said. "The Narconon program helps find the reason a person turned to drugs in the first place. Through this unique study and training program, people get a new chance at life—a chance to handle their problems without using drugs."
Echoing Mr. Carlsen's enthusiasm about the Narconon program was Dr. Stig Cronberg, an internationally recognized physician and expert in the spread of contagious diseases who is intimately familiar with the Narconon center in the southern Swedish city of Esløv.
"The reality is people can actually be free from addiction. They can become well and they can be humane, be themselves and be free. Yes, people can do that through Narconon. And that's why, for the past 14 years, I've partnered with you as a consulting physician in the name of real, lasting rehabilitation. The Narconon program instills confidence in each student that they will make it. There is an old phrase that reads, 'Without fire you cannot sharpen the axe.' Narconon is the fire."
The Very Reverend Dr. William McComish, Presbyterian pastor and Emeritus Dean of Geneva's St. Pierre Cathedral, views the drug problem as spanning many segments of society. "Drug abuse is both a religious problem and a political problem," he said. "Governments and religious organizations must be more determined and more involved in combating those who push drugs and misery upon others. Therefore, I would like to see other religious organizations oppose the evils of drug addiction with the same dedication as Scientologists do when they support Narconon. Look at the result of that support today!"
Also supplying a passionate voice of welcome at the Narconon Europe opening event was Mr. Thøger Berg Nielsen, retired Police Chief Superintendent of the Danish Police and a veteran of numerous United Nations peacekeeping missions. He saluted the Narconon program's presence in Scandinavia.
"When I first heard about the Narconon program, I did not believe that one could in fact rehabilitate hard-core drug addicts," Mr. Nielsen said. "So I took it upon myself to come to Narconon and see for myself. When I spoke to the graduates and looked into their eyes and hearts, I saw they had changed. I listened to the stories they told me, their stories of recovery, and I was moved to tears by the honesty and the life I saw restored in front of me. That is why I joined with you to bring this technology of drug salvage directly to Denmark."
Mr. Nielsen described the results of the Narconon program as "stunning, but the day that everyone sees for themselves the transformations Narconon makes possible is the day our nation is no longer the victim of the drug epidemic. And this new Narconon center is a key steppingstone in reaching that dream."
He ended by dedicating an award to the memory of Mr. Hubbard. "My motto is 'Service Above Self,' and I have never seen this so widely and competently demonstrated as by humanitarian L. Ron Hubbard and the organizations he founded. He is a true benefactor of mankind."
Following the ceremony, Mr. Carlsen was moved to remark, "There is simply no other program like this. I have worked in this area for 25 years. Narconon is not replacing drugs with other drugs, but it is actually helping people come off drugs using a natural way."
Sharing Mr. Carlsen's elation, Rev. McComish said of the Narconon program, "Every step is thought through—every detail. I am truly impressed and have a great deal of confidence in what you are doing." At the same time, he cautioned, "Your drive to create a drug-free nation goes against the interests of powerful organizations and individuals—drug cartels and such. It is not an easy fight."
Dr. Cronberg added after the opening his view that Narconon "is the best program I have ever encountered, and honestly, you don't find anything like it on this planet."
This is perhaps one reason why an ambassador was moved after the presentation to say, "I am totally on fire to get others onboard to disseminate this program. The drug problem is vast, but what I saw here today was 100 percent solutions that need to be embraced by others. This is why I am going back home with the intention of bringing other dignitaries here, so they can learn and bring these solutions to their countries, too."
A founder of centers for drug addicts in France likewise pronounced himself greatly impressed with the Narconon program. He predicted, "What I have seen today, and what you are doing here, is the solution for the handling of the drug scene not only in France but the whole of Europe."
_________________
For nearly 50 years, the Narconon program has saved the lives of countless individuals who were thought lost to substance abuse forever. Its mission is to provide an effective path for drug abuse rehabilitation and to assist society in reversing the scourge of drug abuse worldwide.
Narconon addresses those in the program as "students" rather than "addicts" or "victims," and its sole purpose is to give people the tools to lead successful drug-free lives. Every detail is considered to give students the stability and comfort they need to help free them from addiction and rebuild their lives without drugs.
The Narconon program begins with a drug-free, nonmedical withdrawal process designed to assist the individual in kicking a dependence on drugs as rapidly and comfortably as possible. It is followed by a distinctive method of detoxification, specifically geared to help drug users eliminate the residues that drive cravings while at the same time supporting the body with supplements. The final component of the program is a series of Life Skills Courses that furnish students the tools needed to remain drug-free throughout their lifetime.
Harnessing the power of audiovisual tools to bypass literacy barriers and increase understanding, 23 instructional films in 29 dialects and languages have been created for the various parts of the Narconon program.
The grand opening of the expansive new state-of-the-art European Continental Narconon center in Denmark was made possible by generous contributions from members of the International Association of Scientologists.
Narconon centers operate today in 23 countries on six continents. For more information, visit narconon.org.