East Hollywood, CA
• August 3, 2021
POLICE AND FIRE OFFICIALS HONORED AT THE CHURCH OF SCIENTOLOGY OF LOS ANGELES NATIONAL NIGHT OUT CELEBRATION
Local Scientologists and members of the community gather to celebrate police-community partnerships, neighborhood friendship and camaraderie, and to raise awareness about crime and drug prevention.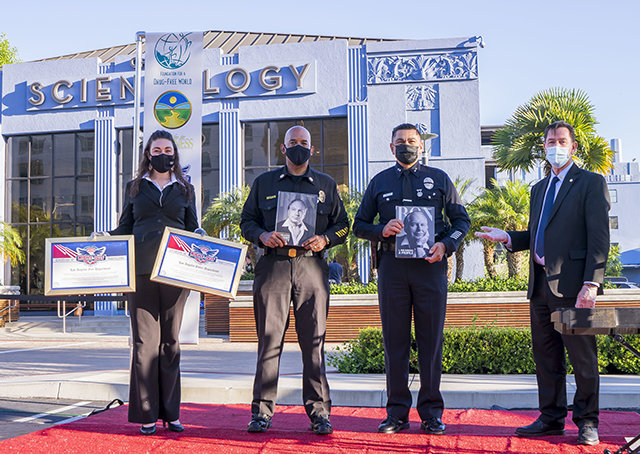 National Night Out is an annual community-building campaign and event that happens in 16,000 communities nationally, promoting police-community partnerships and neighborhood camaraderie for the past 38 years.
In the same week falls International Day of Friendship, which was proclaimed in 2011 by the United Nations with the concept that friendship between individuals, groups, countries and cultures can inspire a collective drive towards peace and build bridges between communities.
So, this year the Church of Scientology of Los Angeles banded together with the local community to celebrate and honor both!
The event was a family-friendly affair in the church's parking lot with live performances, food trucks and of course fun games and activities for kids. There were also informational booths from the Children's Hospital Los Angeles, Strike Out Against Drugs, Artists for a Better World, the East Hollywood Neighborhood Council, HAM Radio, The Way to Happiness, Drug-Free World and the Scientology Volunteer Ministers.

The program kicked off with a Zumba instructor getting the crowd on their feet and dancing, followed by performances by local musicians and dancers.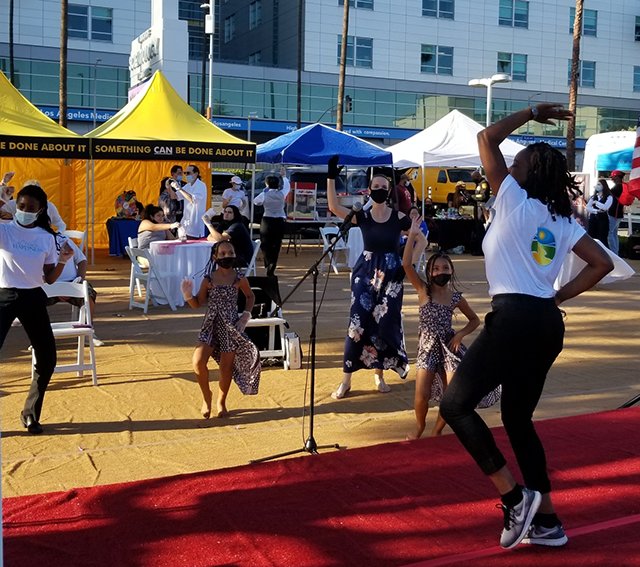 Local Zumba instructor gets the crowd on their feet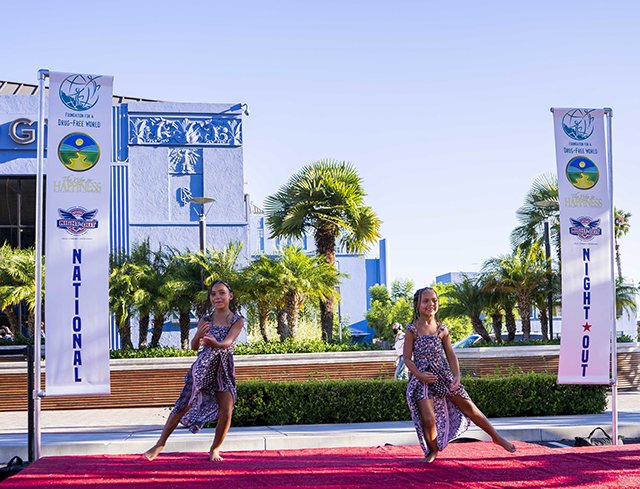 Performances from local artists in the community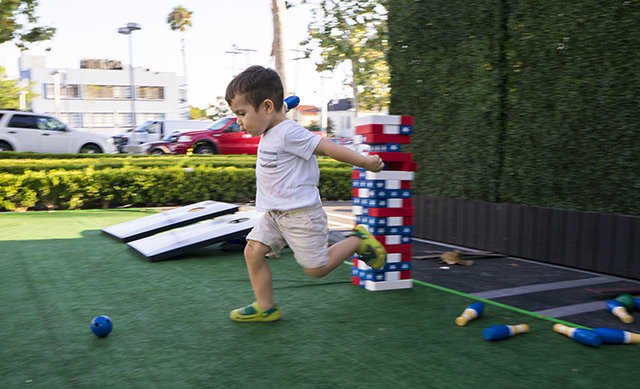 Fun games and activities for children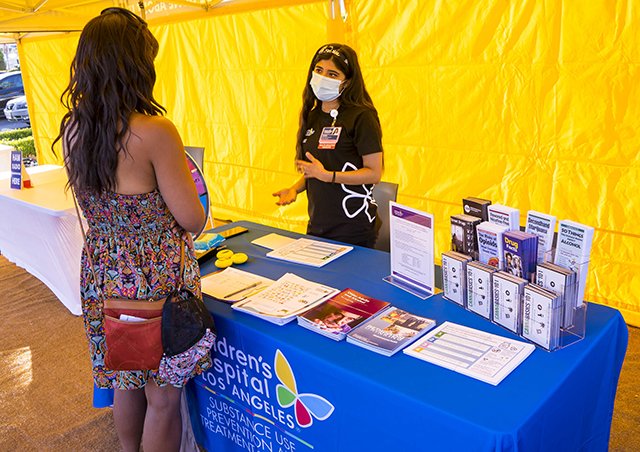 Children's Hospital Los Angeles drug prevention information booth
Next, heralded by an a cappella of our National Anthem by the Church of Scientology's Director of Public Relations, the guests of honor — Deputy Chief Al LaBrada from the LAPD Central Bureau, and Deputy Chief Armando Hogan of the Los Angeles Fire Department — were both welcomed to the stage and awarded for their excellent works in fighting crime and drugs in Los Angeles, and thus keeping Angelenos safe — day in and day out.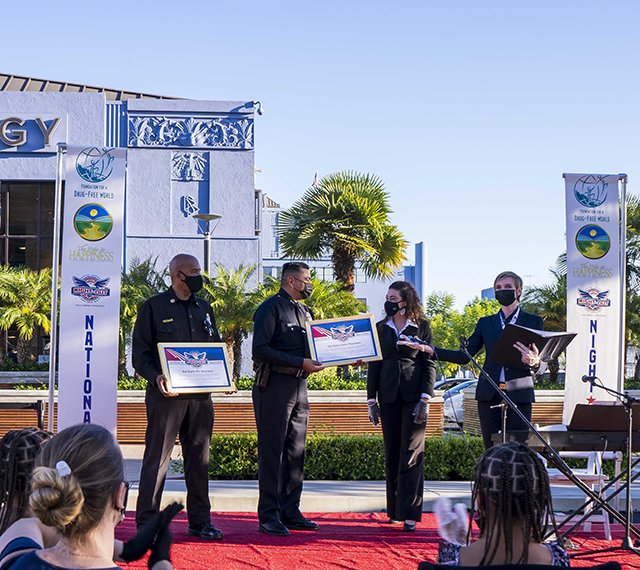 It is no secret that drugs and crime have plagued the streets of Los Angeles for decades, and the numbers show that the two go hand-in-hand: 21 percent of those incarcerated in state prisons and local jails are there for crimes committed to obtain drugs or money for drugs. Drugs are a factor in nearly 40 percent of those imprisoned or jailed for property related crimes. Additionally, 14 percent of those incarcerated for violent crimes claim they committed their most serious offenses due to drug-related reasons.
In response to all of this, the Church of Scientology proudly sponsors the Foundation for a Drug-Free World, a nonprofit public benefit corporation that empowers youth and adults with factual information about drugs so they can make informed decisions and live drug-free. They also provide drug education specialist training and work with educators, police enforcement, churches and nonprofits on the subject of drug education and prevention.
The Church also sponsors The Way to Happiness, a non-religious, common-sense guide to better living written by L. Ron Hubbard. With it, church volunteers are able to help community crime prevention efforts and provide law enforcement with tools to help rehabilitate inmates and ex-offenders to become productive members of their communities.
Thus, the Church of Scientology of Los Angeles works to back up the initiative of the police and firefighters in keeping local communities safe.
Upon receiving his award, Deputy Chief Hogan then got on the microphone for a heartfelt, impromptu thank you to the Scientology Volunteer Ministers for "always being right there to help and do whatever was needed whenever any natural disaster occurred."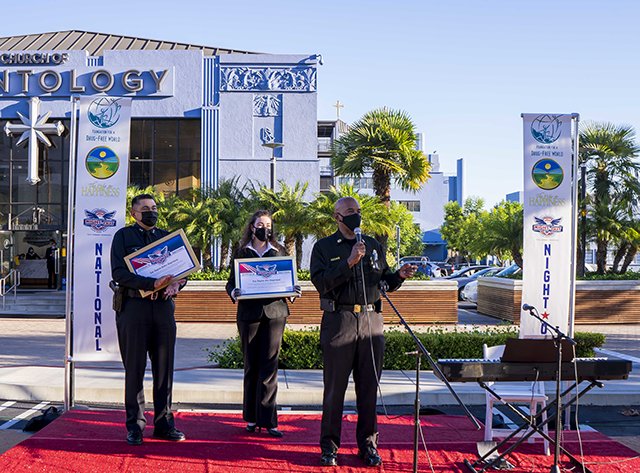 All in all the mission of the day was accomplished: strengthened unity and friendship amongst the community, with a very special acknowledgement for the local officials for all that they do for us, every day.
For more information on community events at the Church of Scientology of Los Angeles, please contact Melissa Eisenhauer, Director of Public Relations.